The Idea Wringer: Choosing an Idea for a Bootstrapped Side Project
Apr 13th, 2012 / Startups Entreprenuership Bootstrapping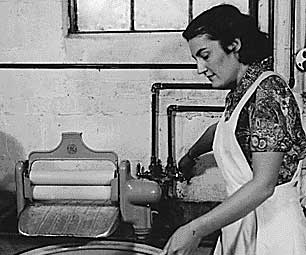 Like many of you, I aspire to create a business. I want to build an idea into a real company with real profits that pays the bills and provides me with a certain amount of financial freedom. However, I'm not rich and I have no desire to pitch an potential idea to angels. That leaves me in a very common position--working a day job and trying to start a business in my nights and weekends.
I've been in this position for the last 10 years or so. I've tried to start cool projects (an online jukebox), social projects (a Top 5/list sharing app), useful projects (bug trackers), and have come up with countless ideas that never made it out of the idea stage. My current project ThetaBoard is still in alpha/demo mode but it's getting used, generating interest and I'm certain it will be a success.
Your idea is the first big decision you'll face
Unless you have a history of startup success--or have the money to take a year or two off--then you need an idea that you can get off the ground while working a day job. You can try and start a frighteningly ambitious startup--the next Facebook, Twitter, or Instagram--but the odds of these ideas succeeding is depressingly low. Do yourself a favor and pick an idea that you can realistically get off the ground.
The following is the idea wringer I put any potential startup idea through before dedicating time or energy to it.
1. Does it inspire you? If not, pick one that does.
I spent a year working on an ecommerce website that was going to compete with the likes of Etsy, etc. Unfortunately, online retail sales doesn't really excite me. It's very difficult to maintain the energy level required to start a company if you aren't inspired by the idea.
2. Does the idea leverage your strengths? Don't waste your talent.
I'm sure you are good at something. You may be a developer, a designer, a marketer, or a shopper. Pick a startup that allows you do do what you do best and capitalize on it. As you work on your idea, you will find yourself wearing several hats and many of these roles will be foreign to you--make sure that the main role is something you are good at.
3. Is there an existing market? If not, walk away.
If you idea requires creating a new market or explaining what exactly your product does, you are facing an uphill battle. First you have to build the thing, then you have to spend 100 times that long trying to create a market. Skip it. Build something that people already need, just do it: a) Cheaper, b) Better, or c) Faster. You likely won't be a billion dollar company but it will have a far greater chance at being a million dollar company.

4. What's the business model? If it's advertising walk away.
If you are going to rely on advertising, you are relying on traffic, which means you are relying on rapid and vast adoption. Customer and visitor acquisition is hard. Chose a business where the people who use it have to pay you money to do so.
5. Does it require a critical mass? Starting from 0 is tough.
How many users do you need before your app provides value? If the answer is anything more than ZERO, bin it and move on. At all costs, avoid "chicken or the egg" situations and pick an idea where you can provide value to customer number 1.

6. Do you know how to build it?
There are plenty of problems out there that do not require an overly technical solution. Pick one that you know how to solve. Ideally it will be something that you can develop yourself. If you aren't technical, you'll want to choose something that you can atleast define and convey to someone who is.
7. Can you afford it?
Give yourself a budget but not a big one. The cost of creating a start up is getting absurdly cheap. With AWS, 99 Designs, ThemeForrest, PSD-to-HTML services, etc. even a non-techie can launch a fairly sophisticated project on a shoestring budget. If you can't launch it for under a few thousand dollars then move on. If need to raise money, move on.
8. Can you juggle two jobs at once?
After you launch you will have a whole new set of hats to wear. You will be responsible for customer support and marketing from day one. Can you take the time to property support your new customers while doing your day job? Pick an idea that won't interfere with your day job or you risk failing at both endeavors.
9. Do the financials 'add up'? Excel is your friend.
For subscriptions-based businesses make a few conservative estimates: 1) what will you charge per month, 2) how many months will your customers stay with you. Multiply the two. Congrats, you have your Lifetime Value (LTV). Now figure out how much it costs you to live. Add on your server costs. Divide that number by what you charge per month. Now you know how many customers you need. You get the point. Open excel. Put in these formulas. Read this. If the numbers don't scare you, then proceed.
tl;dr
Bootstrapping a business on the side is hard. You should pick an idea that gives you the greatest odds of succeeding. If your idea got through the idea wringer, it might just be the one...
blog comments powered by

Disqus