Manage Your Entire Organization with Linked Boards
Aug 23rd, 2012 / Features Linked Boards Organization KPI Drill Down
One of ThetaBoard's most frequestly requested feature is the ability to link from a Card to a separate Board. We are really excited about Linked Boards--we think it's going to really help you manage your organization.
Introducing Linked Boards

At ThetaBoard, I have a Master Board which I have split into different columns--one for each area of the company I want to improve. Under each of these categories, I have identified a number of different performance indicators (KPIs) and identified several large projects that I think will help me reach my goals. Each of these projects goes on my Master Board as a Card.
I have set up my Master Board as a very simple ThetaBoard--labels, comments, and checklists are disabled (for now) and the new Linked Cards feature is enabled. To configure these settings on a project-level, visit your Board's settings and preferences.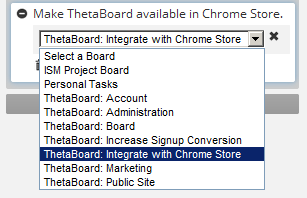 I then created new ThetaBoards for each of the Cards I have added to my Master Board. With these boards created, you put the Linked Boards functionality to work! On the Master Board Cards, click the "Link to Board" link at the bottom of each Card. From there, you will see a list of all of your Boards. Simply select the Board you want to link and your link is ready!
Coming Soon
The current setup is great for getting a high-level list of your companies goals and managing them with Linked boards. In the coming weeks, we'll be adding new features that will let you glance at a Master Board and get a quick idea of the status of the underlying Boards.
Remember ThetaBoard is FREE for individuals. Sign up for our personal plan and get started today! If you have any questions or ideas for improving this feature, let me know at support@thetaboard.com.
blog comments powered by

Disqus